Load background pictures
Clicking on the icon opens a dialog box for choosing the picture. Navigate to the folder where the pictures are saved in case they do not appear at first.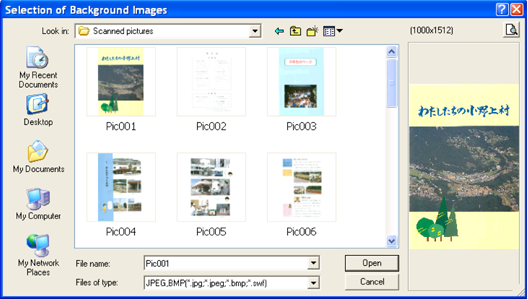 Choose the first picture to load. When pictures numbered consecutively are available, the following prompt is displayed. Click on Yes to load all files. Otherwis e, only a single picture is loaded.

The dialog box to the right is opened when loading multiple pictures. Choose the layout method (one or two pictures per page). The first page can be laid out separately from the remaining pages (use the settings shown in the picture to the right).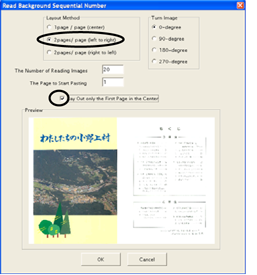 After clicking on OK, th e selected pictures are loaded as backgrounds and the last page is shown.
Click on "Write Digital Materials" from the File menu to save the materials. Choose from a set of templates for saving the materials. After saving the digital materials, the saved materials are opened in a dbook viewer window.
The materials are saved in a folder with the name of the materials. To display the materials at a later time, double-click on "dbookLauncher" in the new folder.